The Hudson River Valley contains over 400 years of culture, beginning well ahead of Henry Hudson's arrival in 1609; it has played a role in the history of our state, nation, and even the world. Hudson River Valley Heritage (HRVH) is your gateway to historical resources from and about the region.
From early colonists such as the Huguenots and the Native Americans they encountered to Urban Renewal, these collections span domestic, commercial, and industrial themes. Topics include fine art and architecture, culinary-, agricultural-, and maritime history. You will find materials on slavery and emancipation, military history from the American Revolution through World War II, the mansions of the Gilded Age, and the evolution of education from rural schoolhouses to modern universities, and much more.
These materials are contributed by members of Southeastern New York Library Resources Council (Southeastern), including libraries, museums, historical societies and other cultural organizations in the following counties: Columbia, Greene, Dutchess, Ulster, Sullivan, Rockland, Orange, Putnam and Westchester.
Southeastern and its members collaborate regionally - and statewide - to provide you with access to unique historical resources through contributions to these websites:

New York Heritage is a treasure trove of historical resources from hundreds of institutions across NY State, including many Southeastern members. Discover over 350,000 photographs, letters, diaries, maps, manuscripts, artifacts, works of art, oral histories and more that together provide a glimpse of the history and culture of our state. At New York Heritage, you can search for items of interest or browse by Contributing Organization, Collection, Topic or Material Type.
New York Heritage is a collaborative service of Empire State Library Network, of which Southeastern is a member.


HRVH Historical Newspapers is a freely available online database of digitized historical newspapers contributed by Southeastern members. Search within one newspaper or across multiple titles. Or browse by Title, Date, or County. No login is required to search and browse the newspapers, but if you register for a free account you can save, annotate, tag, organize and share content of interest.


HRVH Virtual Exhibits provide an opportunity to explore a topic in depth. Collection items are curated and used to tell stories about Hudson River Valley people, places, industries and events.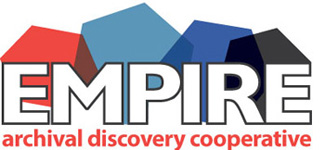 Empire Archival Discovery Cooperative (EmpireADC), another state-wide service coordinated by Empire State Library Network, is an online database containing descriptions of archival, historical and special collections from New York institutions of all types and sizes. These collection descriptions are called "finding aids." Because we can't possibly digitize everything, we make our finding aids available to help you discover the resources you need and where to find them.
 
---
Join Us!
HRVH is a service of Southeastern NY Library Resources Council (Southeastern). Since 2005, Southeastern has helped member organizations digitize collections and make them available online. Southeastern provides the software, equipment, web hosting, training, documentation and support needed to create and share digital collections, virtual exhibits and finding aids.
Do you represent an organization looking to provide greater exposure and access to your historical collections? Visit the Southeastern website to learn how we can help or get in touch with Jen Palmentiero, Digital Services Manager.